Bacony Scotch Eggs -
you'll never want a shop bought one again!
I'm always on the lookout for tasty recipes to make good use of the delicious eggs our chickens give us. 

These Scotch eggs with a twist are a definite family favourite, especially at parties and picnics.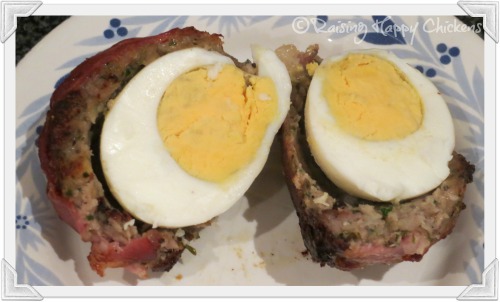 What's the twist?
This recipe is a little different from others because I don't wrap the Scotch eggs in breadcrumbs and I don't deep fry them.
Why?
Partly to keep the saturated fat content down, and partly because actually I just prefer bacon to breadcrumbs.  If you want the original breadcrumb version there's instructions here.
Information.
This recipe is enough for six individual portions.  If you're using them as a buffet then you'll get two bite-sized pieces from each egg, so twelve in all.
Preparation time : 20 minutes.
Cooking time : 35 minutes.
Total time : Around 55 minutes.
Calories per egg : 381 kilocalories.
Fat per egg : 28 grammes (1 oz)  
Saturated fat : 10 grammes (0.3 oz).
Ingredients.
Naturally, the fresher the ingredients, the better the taste.  Buy a good quality sausage (preferably) or sausage meat meat and use fresh, not dried, herbs - they taste completely different.
If you have chickens then obviously you don't have a problem with fresh eggs.  If not, buy the best you can afford, preferably free range and organically fed.
6 free range eggs
2 slices white bread
4 tablespoons milk (skimmed or full fat)
500 grammes (1lb 2oz) good quality sausages
6 rashers unsalted bacon (streaky is fine)
2 tablespoons chopped parsley
1/2 teaspoon grated nutmeg
Salt and freshly ground black pepper to taste
1 non stick muffin tray.
A muffin tin isn't critical if you haven't got one, but it helps keep the meat and the eggs together.  
In this pic you can see that I used a bowl instead - we were staying with a friend who didn't have baking tins - and one egg split because it wasn't contained.  
Instructions.
Pre heat oven to 190C (375F, gas mark 5) and very lightly grease the muffin tin.
Hard boil the eggs.  Bring a pan of water to the boil, making sure the eggs are all completely covered.  Once they've come to the boil, simmer for 8 minutes.   Then drain and cover with cold water until you're ready to peel them.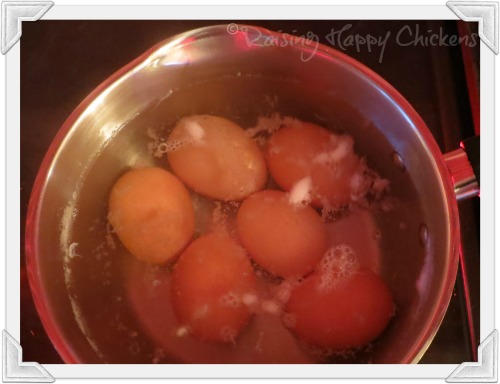 Cut the crust off the slices of bread, put them in a bowl and pour the milk on top.  Using your hands, squish the bread down into the milk until it's saturated.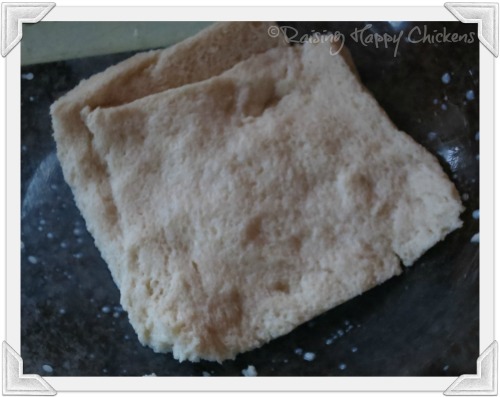 Split the skins of the sausages, remove the meat and throw away the skins.  Put the meat into the bowl with the bread.
Add the parsley, nutmeg, salt and pepper.
Using your hands, squidge all the ingredients together.  (Kids love to help with this bit!).
Divide the mixture into six pieces of roughly the same size and roll them into a ball.  You'll find this easier if you wet your hands with cold water before you start and keep them damp until you've finished.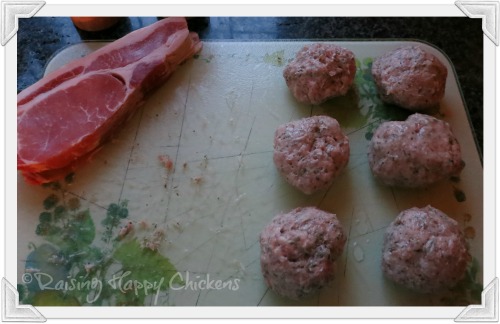 Take each ball in turn and flatten it into a round shape.  If you don't like getting your hands messy, place each shape onto a piece of cling film (Saran wrap).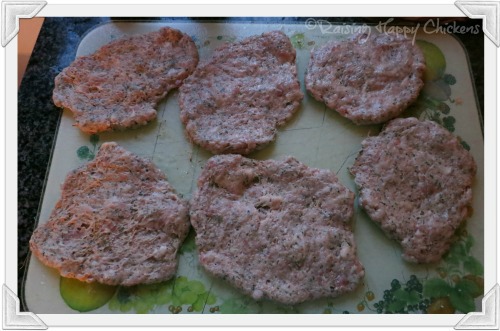 Now stand an egg in the middle, pointy end up, and press the meat against the side of the egg until the whole thing is covered.
If you're using Saran wrap just pull the edges up and do exactly the same, using the wrap as a barrier between your hands and the meat.
Stand each egg in one of the muffin tin holes.  
Take a piece of bacon and, using a rolling pin, flatten and stretch it, then cut it into two pieces down the middle so that you have two long, thin pieces.
Wrap the egg in the bacon.  You can do this either by criss-crossing them over the top, or wrapping it round the sides.
Bake in the pre heated over for 35 minutes.  When cooked, leave the Scotch eggs to stand on kitchen paper for a few minutes to soak up any excess grease.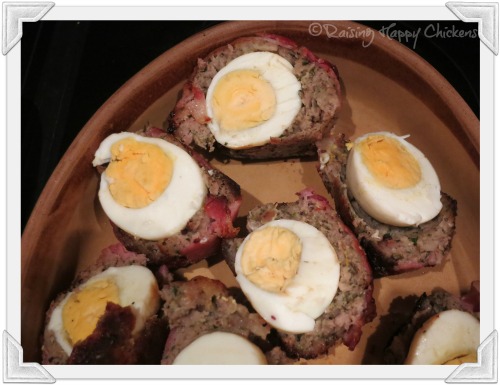 Ideally, Scotch eggs should have the eggs perfectly encased in the meat with no gap between.  In home made recipes, though, they do quite often separate a little.  It's really not a problem - they still taste delicious.

Claudia Chicken says ...
"Scotch eggs used to be laughed at and scorned but take it from one who knows - eggs are full of protein, bacon adds some fat and that makes them a nutritious snack or a tasty meal that keeps you feeling satisfied for longer.    
I'm laughing all the way to the kitchen".
Enjoy!
---
Need some more delicious recipes for all those eggs? 

No problem - just click on the pics!