A course in poultry husbandry at Highgrove House, England.
Learning from experienced chicken keepers, led by the Poultry Club of Great Britain. And meeting His Royal Highness King Charles III's large flock and their keeper.

Please note: when I attended this course, the now King Charles III was still Prince Charles.
Sadly, photographs were not allowed at Highgrove House for security reasons, so I've used the Highbury social media accounts where possible. I took other photos in Tetbury, the closest village, and in the beautiful Cotswolds nearby, where I stayed.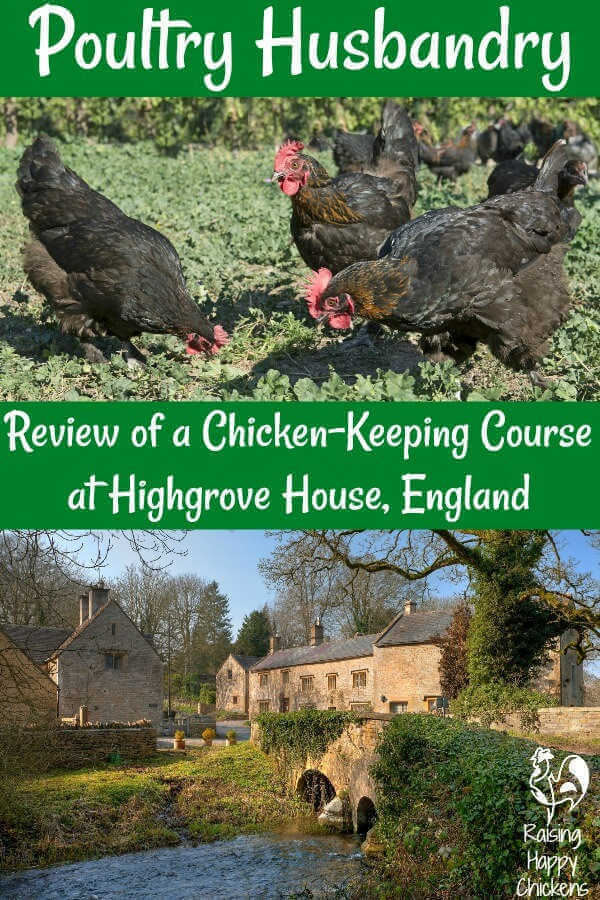 It was too good an opportunity to miss! But what was it really like? And why was I nearly arrested?
I take every opportunity available to build on and improve my knowledge of backyard chicken-keeping - even if that means flying from my home in Italy to the UK to do it!
So when the Poultry Club of Great Britain  announced they were running two one day courses in chicken husbandry to be held at Highgrove House in Gloucestershire, England - the home of His Royal Highness Prince Charles (now King Charles III) and Her Royal Highness the Duchess of Cornwall (now Camilla, The Queen Consort) - I was first to apply for both the foundation and the intermediary course!
It's well known that King (then Prince) Charles owns and cares for a small flock of chickens - there's direct evidence that he feeds the hens and collects his own eggs each morning. He additionally has a large flock of free range birds on the farm at Highgrove.
We were told that he had personally overseen the content of the courses, and it's common knowledge that he is passionate about organic farming and the welfare of farm animals. So I knew this would be a once-in-a-lifetime experience.
And so it proved.

The Highgrove Facebook post where
I first saw the courses advertised.
The benefits of the course - for me and for you!
For me, the great benefit was that the course gave me the knowledge and understanding to know that the way I'm raising my flock, from hatching right up to old age and death, is the form of husbandry which experts (including King Charles!) agree is caring, humane and gives my flock the best possible life.
All of which I enjoy passing onto you, both here and in my newsletters.
Here's what this page covers. Click to go to any section.
---
Highgrove House Course Content.
Day 1: The basics.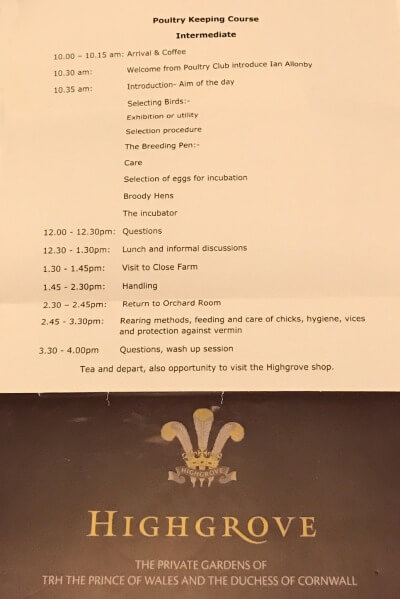 The Highgrove course: Part 2 agenda.
There were two courses - foundation and intermediate.
Each section was covered by an expert from the Poultry Club, all of them far more experienced and knowledgeable than I - which was, of course, the whole point of going!
Learning from those whose heart and mind is in the world of chickens is, in my experience, one of the best ways to grow my own knowledge.
The first day covered the basics any chicken-keeper needs to know: preparing for your chickens, including legal aspects, and the responsibilities that come with keeping any livestock.
It included cost, time and the need for commitment from the whole family.
Day 2: Intermediate - incubating and hatching, breed selection and showing.
The intermediate course dealt more specifically with the detail of hatching and raising young chickens.
It included how to choose the right eggs for incubation, the hatching process, rearing with broody hens and care of young chicks including best husbandry practice.
It also covered showing chickens. Although I often go to poultry shows both in the UK and Italy, showing is not an area I'm particularly interested in.
My aim in going to shows is more to do with speaking to experienced chicken keepers, and learning from their wisdom.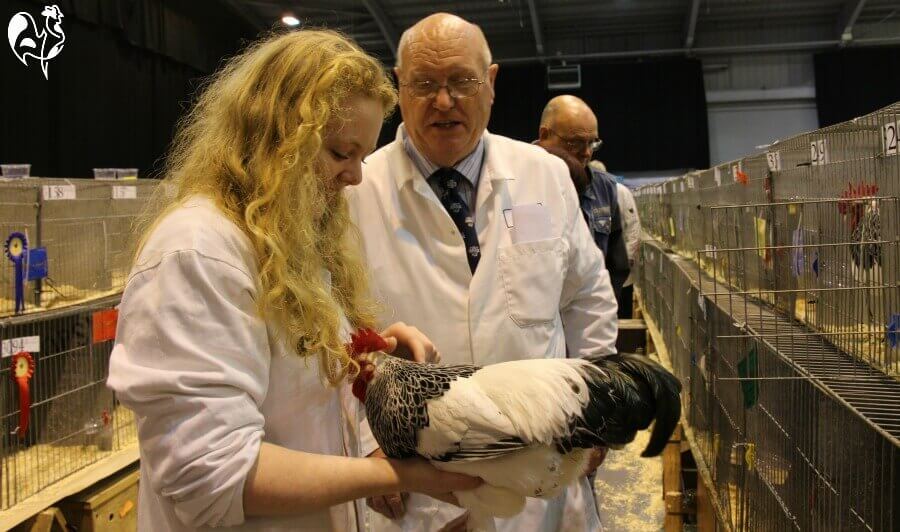 It's always worth listening to the judges at poultry shows - this was a young judge in training at the UK's National.
Day 2: Meet the chickens!
The great benefit of this course, though, was the opportunity to talk with some incredibly knowledgeable and experienced chicken owners from the Poultry Club.
I was fortunate to be able to speak with them about the benefits of different types of chicken coop, feeding treats, healthy chicken food and incubating and hatching.
I was also able to actually meet some of their chickens, and learn how to handle them in a way which keeps them calm and supports their body weight.
And finally, we got to meet King Charles' free range flock.
The most fascinating experience was having the opportunity to talk to the Highgrove chicken keeper (by Royal appointment!) about the King's love of all things organic, and his belief in the need to provide all creatures with as natural and healthy a life as possible.
It was noticeable that all the chickens were wandering happily around orchards and fields, and were beautifully healthy - and obviously happy.
Meet the chicken house!
We were also privileged to see the prototype of a chicken house which had been designed by King Charles, in partnership with a small, local company who hand-crafted it from locally sourced, sustainable materials.
We were asked for comments: mine was that it was lovely and clearly lovingly designed and built - but too expensive for most backyard chicken keepers at a cost of £3,750 (just under $5,000).
The chicken house is no longer available for sale. 
---
Why I was nearly arrested...
We were warned in the security briefing beforehand not to bring cameras of any description as taking photos would not be allowed.
But I didn't want photos of King Charles, nor even of Highgrove House. I just wanted some pics of his chickens. How much of a security risk could chickens be?
So a member of staff kindly called security to ask if I could just take one or two, of chickens only...
They responded by saying that if I even tried, my camera would be taken away and I would be arrested. So I didn't. 
But seriously chaps - I only wanted a pic of some hens!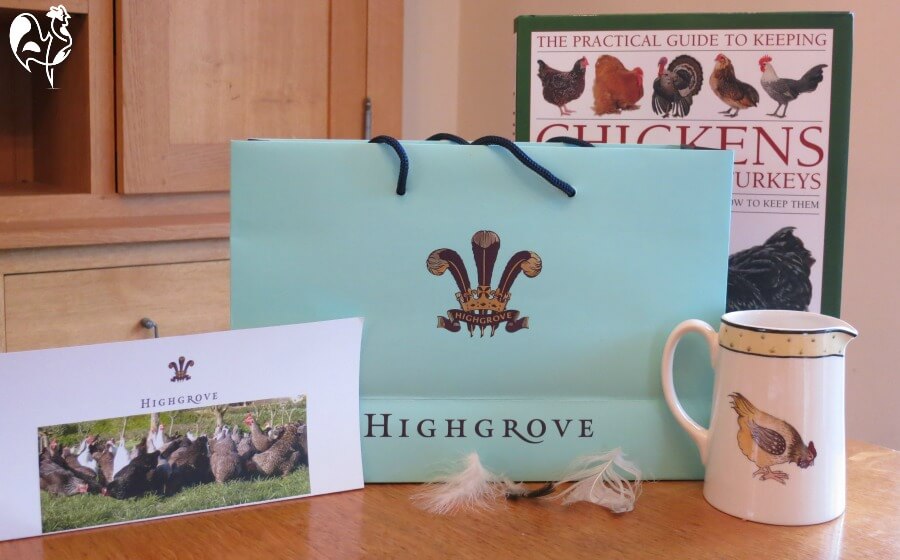 The only photo I managed to take - my Highgrove souvenirs, including some feathers from King Charles' own hens!
---
King Charles III and chickens.
Chickens have been kept by British royalty for centuries. 
The first member of the royal family known to have kept chickens was Queen Victoria, whose favourite was the huge, soft-feathered Brahma chicken.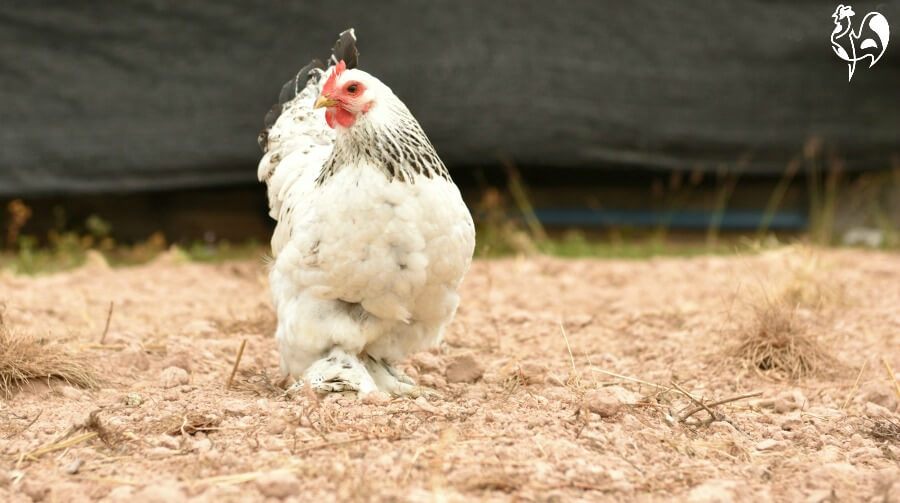 The then Prince Charles was introduced to chicken-keeping by his grandmother, Queen Elizabeth the Queen Mother, when he was very young. Her preferred chicken breed was the Orpington - one of the best for rearing chicks.
In his preface to the book "The Illustrated Guide to Chickens", Prince (now King) Charles talks of her pride in having been Patron of the Buff Orpington Society.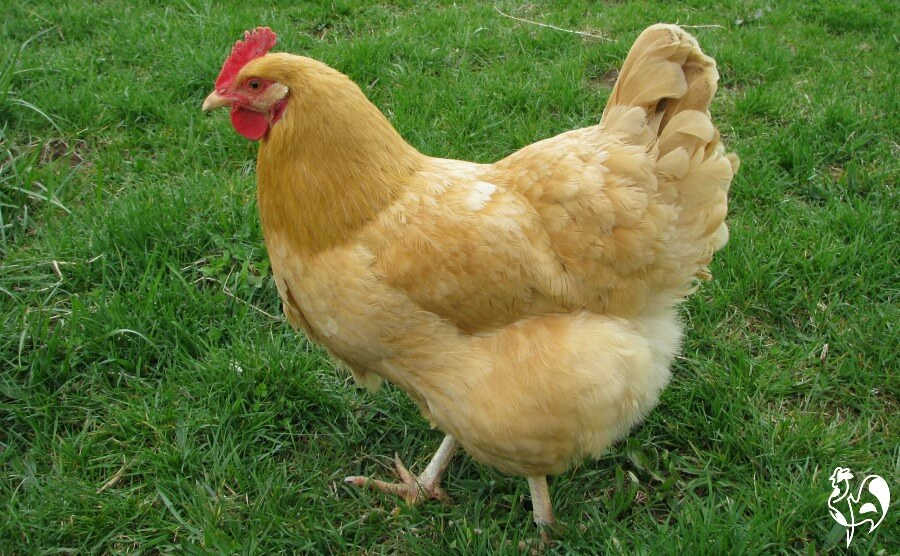 Buff Orpington - the preferred breed of King Charles' grandmother.
As for King Charles himself, he is Patron of both the Poultry Club and the Rare Breeds Survival Trust. His own flock is made up of a variety of breeds, but his preference is for  Marans and Welsummers. 
---
The experience of visiting Highgrove House.
Both courses took place in the Orchard Rooms, located in the stunning grounds of Highgrove. Did we catch a glimpse of King Charles or Camilla, The Queen Consort? Sadly, no! 
We were able to see the gardens and the house itself, though. As Prince, Charles was known to spend a good deal of his private time on the Highgrove estate and spent many years developing it into the magnificent oasis of ethically managed calm it now is.

His sense of humour and love for the unexpected is obvious too. Nooks and crannies hold unexpected sculptures like this chicken family, made of willow...
Although the poultry courses are no longer available, it's possible to book tours of the beautiful Highgrove Gardens. King Charles is known to take a keen interest and play an active part in these gardens - his favourite of all the royal residences.

So if you're coming to England and want to have a taste of what royal life is like and how King Charles created an organic refuge away from the crowds - and a legacy for future generations - my strong advice would be to book a tour.
Who knows - you may even get a glimpse of those royal chickens!
---
The village of Tetbury.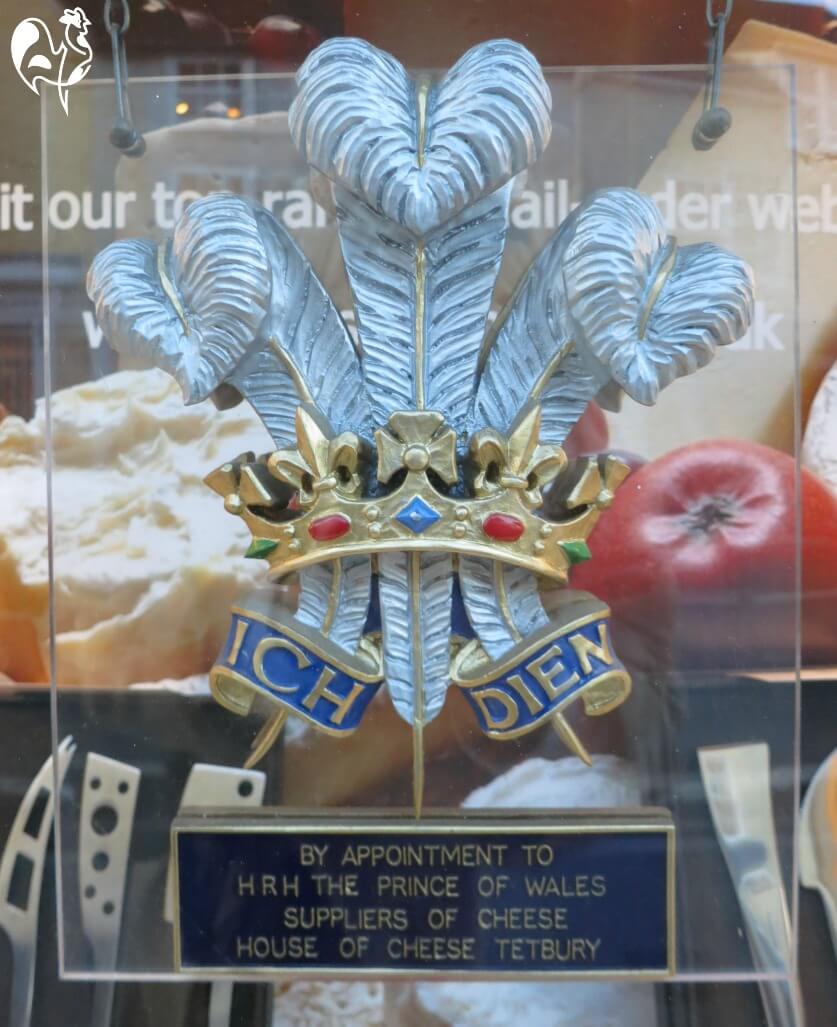 Just two miles from Highgrove House is the pretty Gloucestershire village of Tetbury, where you'll see evidence of King Charles' influence everywhere you look.
Some local stores have been given the Royal Warrant of Appointment, issued to tradespeople who supply goods or services to the royal family. 
Look out for the words "By Appointment to..." and the unmissable insignia of Prince of Wales feathers on display in windows.
My personal favourite, though, is the Highgrove shop which you'll find either at the house itself, or in the main street of Tetbury village.
All the goods on sale here are by royal approval, and the profits go to the Prince of Wales's Charitable Foundation, including the Prince's Trust - a charity founded by King  Charles which helps young people to access education, training and job opportunities.
Here you'll be able to buy souvenirs of your time at Highgrove. I particularly recommend the wildlife-themed crockery. It's not ultra-expensive, and it comes with a Highgrove stamp on the bottom. Perfect gifts to take home to impress friends and relatives!
If you're not able to visit, it's possible to order goods from the online shop. (This is not an affiliate link).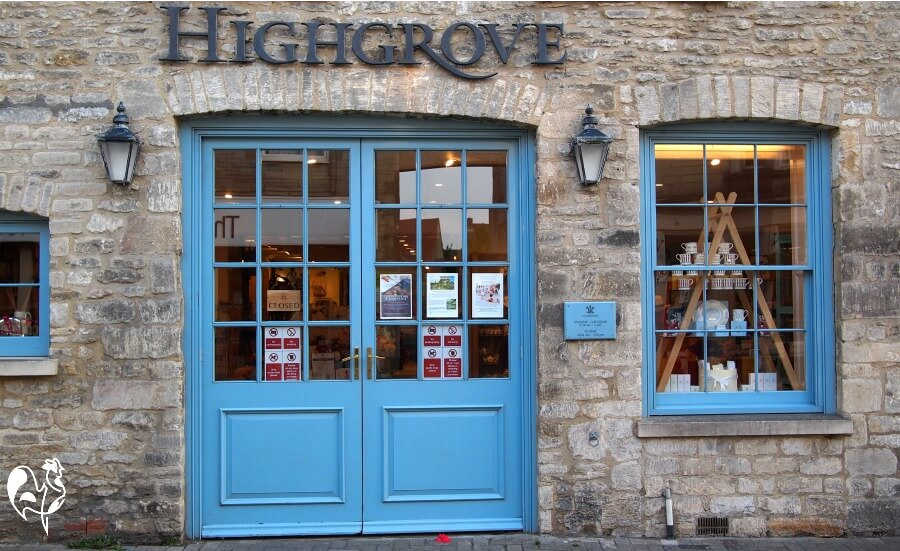 Highgrove's official souvenir shop in Tetbury, England. There is also a souvenir shop at Highgrove House itself.
---
Where to stay.
(Links in this section are "affiliate links", which means that if you click and buy something, I earn a small commission at no extra cost to you).
If you're able to visit Highgrove - the gardens really are worth seeing - staying in Tetbury is a good option. I stayed at the Hare and Hounds, a traditional, upmarket British hotel / pub set in its own grounds, complete wth woodland. I'd wholeheartedly recommend it.
I stayed there on my own and the staff were very helpful and friendly. 

The rooms are beautifully kept: clean, warm and with a feeling of luxury. This was my bedroom - complete with four poster bed! - and the door to the spacious ensuite bathroom.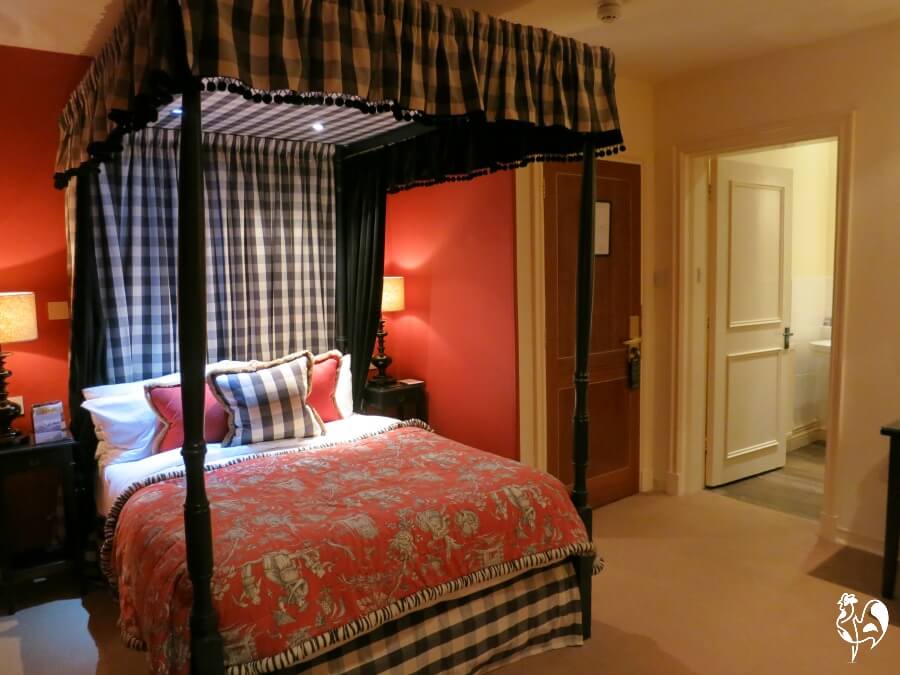 Click to reserve a room at the Hare and Hounds.
I ate in "Jack Hare's", the bar bistro type eating place within the hotel. I stayed in the winter months and the log fires there were very welcome!
It's also convenient not to have to go out and find somewhere to eat, and the food was lovely - this was just the starters! Home-baked bread with delicious local produce as dips.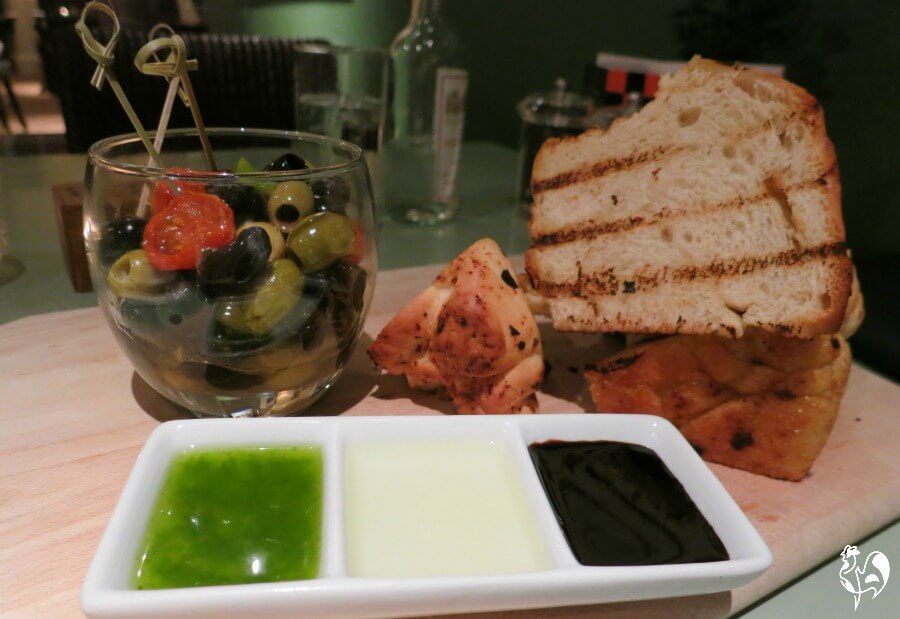 Click to take a more detailed look at the Hare and Hounds.
Sadly there were no chickens at the Hare and Hounds! But the restaurant does use local free range eggs. Are they from King Charles' flock? Maybe!
So, if you're going to Highgrove, whether that's to see the chickens or to visit the gardens, think of staying at the Hare and Hounds. I guarantee, you'll love it.
---
The surrounding area: the Cotswolds.
The English Cotswolds is a stunningly beautiful area, full of quaint villages, their houses built in the warm, honey-coloured tones of local stone. Many of the roofs are thatched in the traditional style.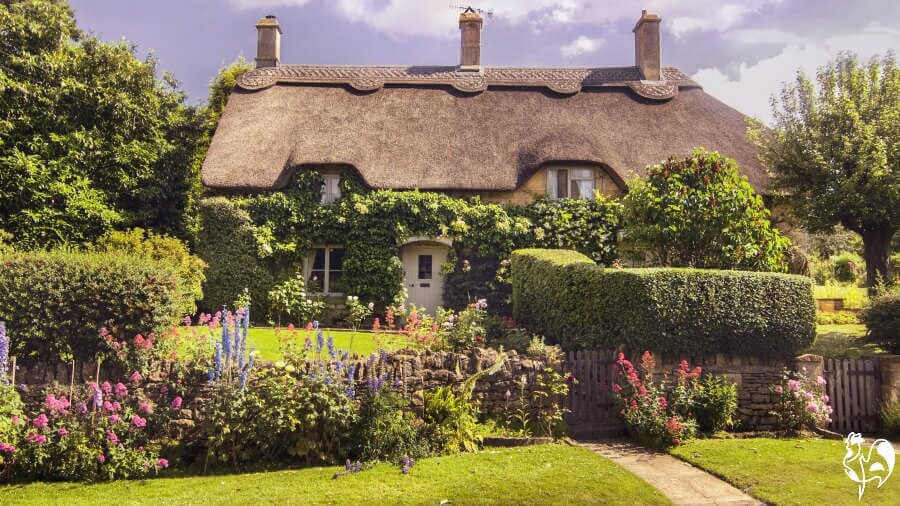 A thatched roof cottage with a typically English country garden in Chipping Camden, Cotswolds, England.
If you're visiting England, this is an area I would highly recommend you stay. The typical villages of The Slaughters, Stow-on-the-Wold and Bourton-on-the-Water, for example, are about 30 miles from Highgrove House. It's an easy drive if you're visiting the royal gardens.

You'll find a part of England far removed from the noise and bustle of London.
There's wonderfully fresh local produce in the shops and restaurants, including cheeses, veggies, meats and drinks. The countryside is made of fabulous rolling hills and the houses have pretty gardens full of cottage garden flowers from early Spring.
And in the summer, more often than not, you'll find fun village festivals and fetes which provide a warm welcome to visitors.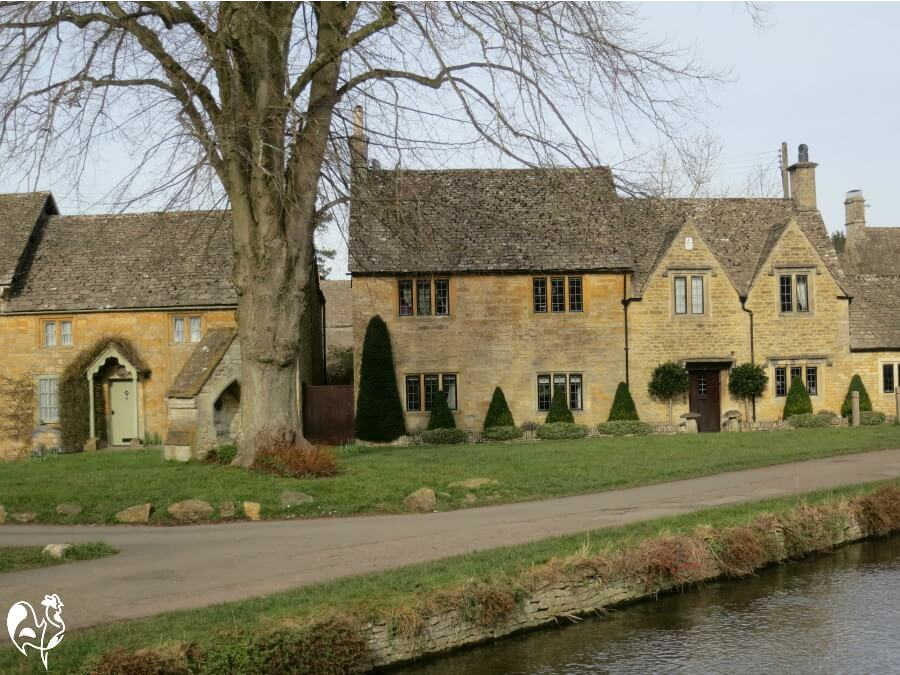 Lower Slaughter - one of the beautiful Cotswold villages not far from Highgrove.
It's a part of of the country which, if I lived in England, I would choose as my home.
---
Want to see more of the Highgrove House Gardens?
This is a short video giving glimpses into the Highgrove world, including information about the beautiful wildflower meadows, the composting and heating systems - and a very brief shot of the chickens!
Enjoy!
---
Other articles you may enjoy.